Today I watched Objectified, a documentary on industrial design and the creative process. It made me think about my Design of Everyday Things project from a while back and rekindle the close scrutiny to the easily-overlooked objects around me.
One of my favorite parts of design is how everyone has a different approach. You can give two people the same materials and the same objective yet get very different results. I'm also fascinated by the challenge that is good design – it's hard to achieve but easy to notice (bad design usually easier than good). Users are a designer's best friend but biggest headache.
To me, the best designs marry intuition and timelessness. Intuitive that the user experience feels natural and timeless that the design can be appreciated not only now but in years (if not decades) to come. Three of my favorite designs (pictured below) are a Stradivari cello, the Porsche 911, and the Retina Macbook.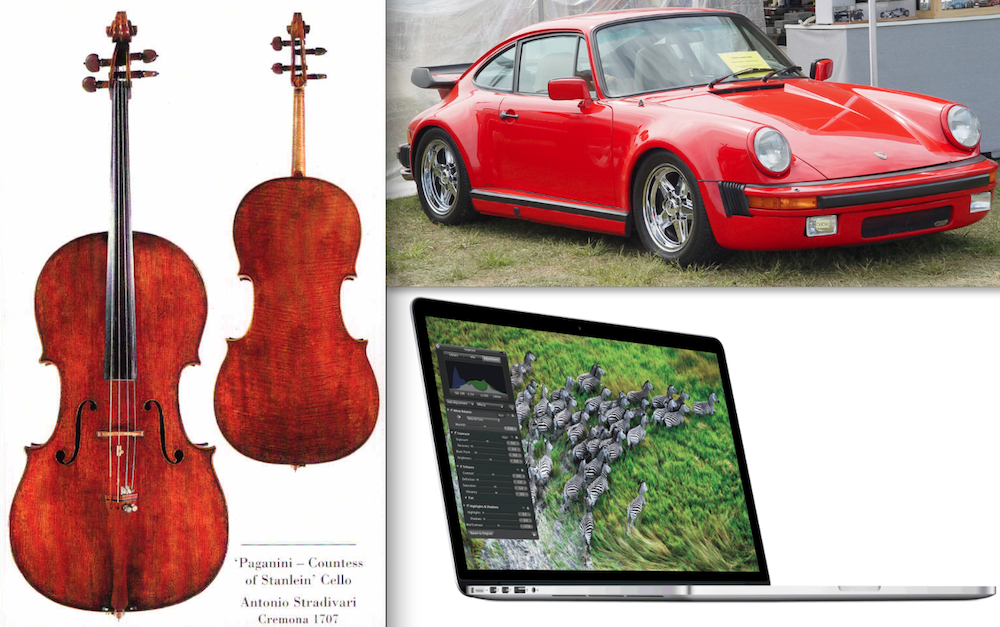 Almost immediately, I appreciate the cello for its elegant shape. As a musician, I appreciate its finely honed design that produces its extraordinarily beautiful sound. With the Porsche, I am amazed by how the original design was so brilliantly created that the modern version shares many of the elements found in the first 1963 design. Things such as its circular headlights and uniquely curved back make for quite a timeless design and iconic silhouette (not to mention its great handling). With the Macbook Retina, I am drawn to its aluminum unibody shell and thin profile. The black and silver compliment each other perfectly and its subtle curves place it in my small list of sleek designs.
So where does intuition fit in? All three of these products are so enjoyable to use because tremendous thought has been put into designing them to connect with humans on a profoundly deep level. I'd venture to say that someone utilizing them to their full potential will consider them an extension of their body; that they become one with the object. I'm also willing to bet that anyone who owns any of these three items appreciates it not only aesthetically but functionally as well.
Design is all around us. We must simply be aware of it and appreciate its beauty.