Today I analyze my REI Tumbler: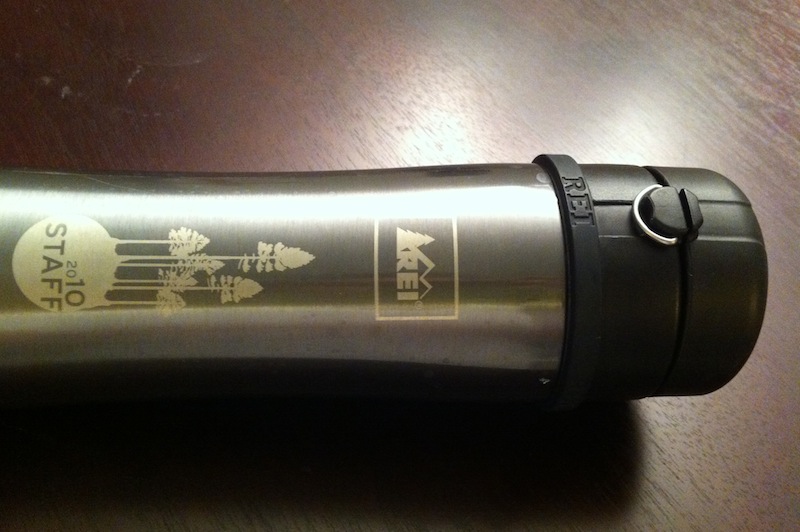 [first impression]
This was one of the REI employee gifts from December 2010. I was pretty impressed when I first got my hands on it: it felt sturdy, sleek, and capable. I was amazed when I used it the first few times: my tea was still tongue-burning hot when I drank it 3+ hours after putting it in the tumbler. It outperformed every tumbler/mug/thermos I had used before and served especially useful in the winter to warm me up in the mornings.
[usability]
The tumbler encloses the inside liquid in a double-wall vacuum, and is advertised to keep drinks warm for up to six hours and cool for up to ten hours. It has a flip top and push-button thermal stopper to seal the liquid inside. Its rubber base gives it reliable traction on a variety of surfaces. It utilizes a rugged stainless steel construction and a contoured shape that allows for a very comfortable grip.
The tumbler's design results in a very solid but also somewhat heavy product. At 10.5 ounces, it weighs more than other tumblers, mugs, and thermoses that I've used. The main flaw that I've found hasn't been under my usage, but rather my Mom's. She doesn't always tighten the top down all the way, and as a result the seal isn't completed. This results in the liquid coming out when you tilt it to drink from it, and during our past trip to China she had half the tumbler's contents spill onto her lap. While this may be argued as more of a user-error problem, I think the design can be improved to give the user better feedback that the tumbler is not completely sealed. After a few years of usage, it also seems harder to secure it tightly.
[overall analysis]
I've come to love using this tumbler to store hot drinks during the winter, but I haven't found much use for it in the summer. For some reason it feels unnatural to put cold drinks in it. I like its metallic silver look (REI calls the color Sharkskin), and find the tumbler very aesthetically pleasing. It's definitely earned a spot on my list of products that combine great usability and an elegant-looking design. It's easy to disassemble and straightforward to clean. Like the other REI products that I own, I have come to appreciate the detail that went into its design and the durability that makes it perfect for outdoor adventures.
---
[about DOET]
Last year I read Don Norman's The Design of Everyday Things. Inspired by Steve Jobs' biography, I recently began thinking and reflecting on the beauty around me. There is a lot of design coverage and discussion about well-known and extraordinary things, such as a Retina Macbook Pro or a Lamborghini Aventador, but there is little towards better understanding the normal objects around us.
This is my last DOET (for now), where I randomly choose an everyday household object and conduct a thorough analysis of its design in what I'm calling my Design Of Everyday Things, or DOET, project. My goal with this was to learn more about design through the careful scrutiny of products I would have otherwise overlooked. This is my refusal to take design for granted. Each analysis has three parts: first impression, usability, and overall analysis. I don't consider this to be a review, but rather an exploration: there will be no numerical rating, purchasing recommendation, or a pro/con section.
Past DOETs: